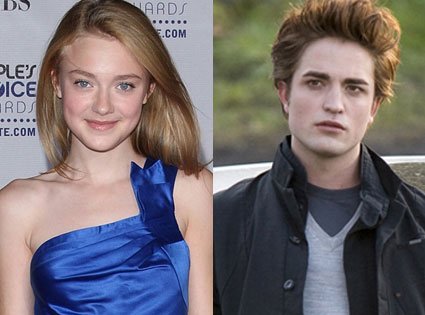 by Marc Malkin
Dakota Fanning may not be saying much about joining the cast of the Twilight sequel, but she just confirmed she's in talks to play Jane!

The 14-year-old child star has been offered the role of the young killer bloodsucker in the movie adaptation of New Moon, the second book in Stephenie Meyer's bestselling teenage vampire series.

"I really hope it works out," Fanning said yesterday while promoting her latest flick Push. "It would be so much fun.

"I think that the actors are amazing. It would be really cool to be a part of that. I'm a big fan."

Director Chris Weitz is so confident that Fanning is right for the part, he offered it to without even an audition. Filming of the much-anticipated flick begins in March in the U.S. and Italy.

A member of the deadly Volturi, Jane is described in a casting notice as a petite blonde with a "Botticelli angel-like face…[and] crimson irises."

An online petition to cast Fanning as Jane has seen a huge bump in signatures ever since my story broke on Wednesday.

A rep for the studio, Summit Entertainment, has confirmed Fanning is one of the actors being considered for the role.

If it happens, Fanning will join returning stars Robert Pattinson, Kristen Stewart and Taylor Lautner, among others. New Moon is set to open in November.